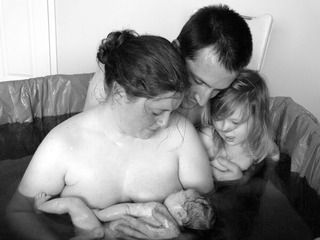 That's us, four years ago, meeting little owlet for the first time... in the dining room.
*************
I am aware that homebirth will happen in my lounge room imminently.
I am aware that homebirth is an amazing, life changing, completely normal, everyday miracle kind of thing.
I am aware that I am extremely lucky to have a home to birth in.
I am aware that many women around the world do not have the same luxury I do. The best they can hope for is to avoid trauma and infection and that someone might get them a glass of water or gently rub their back*.
I am aware that I am lucky to have a care provider who will just be with me and leave me to birth in my own time.
I am aware that my right to have the birth that I want, with the care provider I want, is on tenterhooks.
I am aware that the medical and political powers that be have put insurance before autonomy and seek to make homebirth, as I know it, illegal.
I am aware that they are doing this not just in Australia, but in Ireland and Germany right now too.
I am aware of my responsibilities as a birthing woman and parent and I am aware of the perceived risks.
I am aware that the risks are not as the media, medical factions and insurance companies would have us believe.
I am aware that I am part of a minority who cares about this stuff and worries that my daughters may not have the same experience of birth that they have come to see as normal.
I am aware that my best chance of avoiding intervention is to stay at home.
I am aware that when I birth at home, the only time we look at a clock is to record the time of birth... after we've all taken a moment.
I am aware that homebirth allows for a smooth transition for my family from a family of four, to a family of five.
I am aware that homebirth is best for me and my baby.
I am not brave. I am not a hippie. I am not built for birthing more than any other woman. But I am aware.

*Seriously. My midwife just returned from a stint of volunteer work in PNG. There women can expect to be assaulted and abused as par for the course when they birth. They are at huge risk of infection due to intervention and undergo extraordinary pain. They are not allowed a glass of water and labour alone. And here I am planning which corner of the room the birth pool goes in...